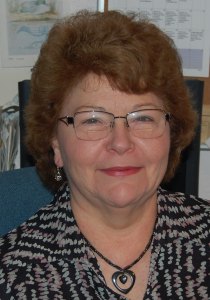 The 2015 Theodore C. Hines Award for continuous dedication and exceptional service to the American Society for Indexing (ASI) is awarded to Carolyn G. Weaver.
Carolyn has been, and still is, a constant, calm, and competent presence within the ASI ranks. She serves her local chapter (Pacific Northwest) admirably in various capacities, and has served on the National Board of ASI as both treasurer and president. Her nomination cites Carolyn as possessing a "great knack for dispute resolution" as well as the ability to see the "big picture" – both extremely valuable attributes for such a diverse and far-flung organization as ASI.
Carolyn played a critical leadership role in the development of ASI's Website and still serves on the Website Committee. She has contributed to a number of ASI publications and presented workshops and sessions at ASI's annual conferences. Her interest in educating and encouraging new indexers is a prevailing theme in all that Carolyn does. Apart from mentoring new indexers and sharing her knowledge and insights on multiple indexing-related listservs, she rose to the challenge of spearheading the substantive revision of the ASI Training Course. Her conscientiousness, responsiveness, and professionalism during this particular period is both a credit to her and a boon to the Society
ASI is all the better for her generous and gracious spirit, and especially for her ceaseless fostering of the Society as a truly professional organization. Carolyn might dispute the fact that we are the beneficiaries of her dedication and exceptional service, believing that it is she who has gained more from being an active participant within ASI, but her nomination citation and all supporting materials attest to the contrary.
Carolyn will be presented with the Hines Award, and receive our thanks, at the annual conference in Seattle on Thursday, April 30, 2015. We hope you can join us to congratulate and celebrate Carolyn's achievement.
2015 Hines Award Committee:
Frances S. Lennie (chair)
Janet Perlman
Sandi Schroeder